Thank you for visiting our website as it is being upgraded to serve you better. As a business, we want to give you the opportunity to stay in touch with our company, our offers and other FUN services!

Please check back here again SOON!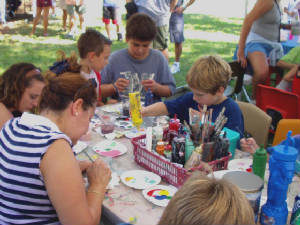 Fun for the whole family!

Crafts on Wheels can create exciting, focused programs for your:
Birthday Parties
Schools & Day Care
Ornament & Holiday Parties
Churches & Synagogues
Adult "Get Plastered Parties"

Shopping Mall Events

Corporate Events
Scouts & Camps
Resorts & Festivals
Fundraising Projects
Senior Centers
Grand Openings
We specialize in bringing quality entertainment and educational programs to your home or facility at affordable prices. Our customers value how focused our participants become during the activities.
The best is WE COME TO YOU!
If you are not familiar with our company and your first contact with us is online, we would be pleased to hear from you! Please let us know what your needs and questions are and we will be more than happy to accommodate you. Fill out the contact info request form or call us for more information.
Thanks for stopping in.... Cheryl & Larry Elman